What's Duviz?
duviz.py is a simple UNIX command line utility written in Python to visualize disk space usage.
It's like the plethora of desktop applications and widgets (e.g. Filelight, DaisyDisk, WinDirStat, JDiskReport, TreeSize, SpaceSniffer, ...), but instead of a fancy GUI with animated pie charts and shaded boxes you get a funky "ASCII art style hierarchical tree of bars".
If that didn't make a lot of sense to you, look at this example of my /opt folder: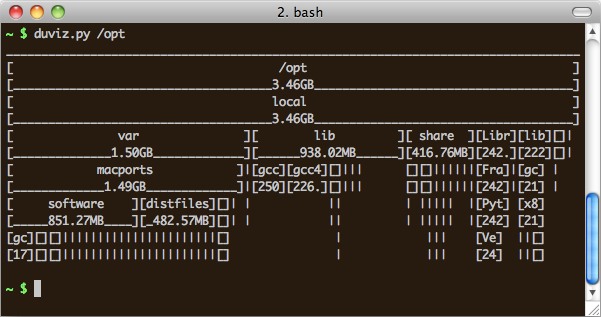 Oh my god, that's handy for finding those pesky disk hogs!
Features
Virtually no dependencies. You just need a Python 2.x interpreter and the du and ls utilities, which are usually available on a typical out of the box UNIX setup.
Just one script file duviz.py. Put it where you want it. Use it how you want it.
Quick. No need to wait for a GUI tool to get up and running, let alone scanning your disk. The hard work is done by du (or ls), which run an C-speed.
Progress reporting while you wait. Be hypnotized!
Duviz detects your terminal width for maximum visualization pleasure.
No arguments: visualize the current working directory. With directories as argument: visualize each of the given directories. How intuitive is that!
Hardlinked files in different directories are only accounted for once, thanks to how du works.
Support of inode counting instead of file size analysis. Just add -i or --inodes.
Get it!
If you just want the script: Download duviz.py
If you want to do it the fancy github way: Fork Duviz on Github
Install it, use it
To have it easily at your service (without having to remember the script's full path): copy or symlink the duviz.py script to a folder in your $PATH (optionally removing the ".py" for more polish) and make sure it is executable. If you don't know what this means, ask your favorite UNIX guru.
Run it. With or without directories as arguments. Add options (like --inodes). Ask more help with --help. Be nice to the elderly.